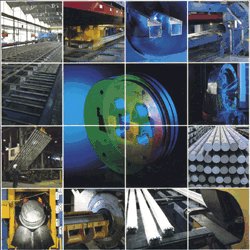 Making your way as Short as possible by Fist Offer, First Class Materials.
Ø Our Mission:
Queen CoEast Co. Ltd., (QC) was founded on 2000 once Y2K problem was seemingly over. The founder already perceived & took advantages of the new orientation in International Trade named ECommerce so established the first fully operating e-company in Iran meantime public were not quietly aware of such term. That's why he has been trying to demonstrate other Businesses that can get not only better from Business deal, In fact they are expected to participate with and within the International Trade.
QC's Team Works are all proud to be the first team working with the first Iranian e-company pioneering intact challenges in Iran, Pursuing what difficulties might be blocked their road to prosper.
They all found it challenging, autonomous and interesting in marketing via the Internet understanding Network Economy then smoothing road for other follower(s).
Board Of Directors (BOD) also agreed to provide E-Commerce concept for all late-runner who may wish to get knowledge and proper inference in this regard. They consider QC as a VISIBLE evidence and invitation for trading Cos. to whom it's interesting.
So that they took the first step to set up trade activities pursuing benefits and what infrastructures are needed for practical ECommerce implementation within the territory.
Hence the BOD defined lanes of Businesses then formulated e-strategy to prosper Goal Achievement.
The BOD set up three major field that QC is expected to be involved and actively participating meantime the two earlier one were already set.
1) E-Commerce Distribution
2) Training HR for the forthcoming age of International Trade
(Digital Economy)
3) Chemicals
4) Metals
5) Minerals
Firstly, we are willing to inform you we have not only attempted to disseminate ECommerce concepts to the public meanwhile we have been focusing on training our HR (OUR UNIQUE RESOURCE) as the most strategic choice BOD has made up to now.
We believe B2B is aggressively growing not only in North of America but here too and we intuitively learnt the pace will be getting a head in Asia rather than the said region. That's why QC turn to HR training for meeting our community requirement if near future.

BOD have been considering HR training as the first and the most Goal of the QC existence.
So QC can be considered as an ECommerce professionals running & Managing Enterprise and also is actively conducting Businesses in Selling Chemical goods with comprehensive coverage from Oil field recovery to Essence & Perfumes Raw Materials.
At the moment QC is granted by TDS Chemical China as the Sole Selling Agent within the territory of Iran.
For the 4th target QC is actively cooperating with Chinese Enterprises for the benefit of all Iranian Industries and Suppliers too.
We're procuring all necessary Raw Materials, Semi Finished or Finished goods at the best possible Quality and unsurpassed price. We consider Metals and Non-Metals markets as something very interesting and challenging for our Sales Force. We believe this sort of challenging is vital for our sales force effectiveness & freshness.
And then aimed toward the 5th target. We received Vermiculite from North-West of Iran and designating QC to conduct International Marketing Campaign respectively. Said vermiculite is worth of while to be imported for construction and Oil field usage.
We are now conducting International Marketing campaign boosting export opportunities for the benefit of our National & Local Mines & Minerals economy in this connection.
Thanks to all partners that have been increasingly supporting and
participating with QC and really appreciating you in bearing this article.
We hope to received your kind comments or any bright idea for the future cooperation.
Truly Yours,
Founder
Queen CoEast Co. Ltd.,